What To Do If My Ex Isn't Paying Child Support
Jan. 30, 2023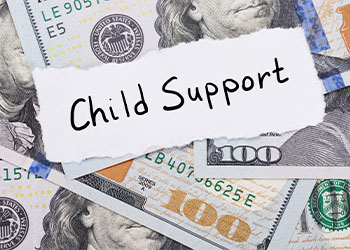 Divorce is difficult, especially when you share children with your ex-spouse. What you expect when all is said and done, however, is that everyone will do what the court has ordered. You will divide your assets and debts as approved. One or both of you will move. The visitation schedule and parenting plan will proceed. Child support will be paid as ordered.
However, what happens when you follow through with the plan, but your ex doesn't? Specifically, what do you do if your ex isn't paying the child support they owe? Child support isn't just unnecessary, extra income; the custodial parent counts on that money to help with the expenses that having a child requires. Many let the lack of payment go on for a time, hoping the ex will catch up on delinquent child support payments and then keep current. In the meantime, your kids suffer. It takes both of you to provide what they need.
If you are experiencing the frustration and stress of an ex who isn't paying their child support, let me know. As a child support lawyer, I help clients in similar situations in Kingsport, Johnson City, Church Hill, Bristol, and throughout northeast Tennessee. Steven C. Frazier, Attorney at Law can help you use the law to make sure your children receive the support they should, so reach out today.
What Action Can I File with the Court?
Child support orders are issued by the court. Anyone who disobeys a court order is guilty of contempt of court. One issue with child support orders in Tennessee is that orders are issued by the court, but payments are collected by the state's Department of Human Services. When someone stops making the payments, the receiving spouse will need to bridge the gap by filing a contempt motion for failure to pay child support.
The requirements are fairly straightforward:
First, you must prove there is a court order.

Second, you must prove the person ordered to pay child support has failed to do so per the court order.

Third, you must prove you have made a reasonable effort to get your ex to pay, such as letters to them.

Finally, you must prove the ex is willfully not complying with the order and is not involved in circumstances that would inhibit the ability to comply. For example, they aren't stationed with the military in a war zone or were injured in an accident and are in a coma. They can comply but are refusing to do so.
You should work with a family law attorney to ensure your case meets all the requirements, collect evidence, and file the motion for contempt. Although there is no statute of limitations for child support enforcement in Tennessee, you don't want to delay taking legal action. The longer you wait, the more behind your child's support will be.
What Can the Court Do?
The court can exact both civil and criminal penalties if your ex is found to be guilty of contempt of court. Criminal penalties include a fine of up to $50 and jail confinement of up to 10 days.
The court can impose a fine of up to $50 per day in a finding of civil contempt and may order your ex to pay your court costs and attorney's fees.
Of course, the judge will order your ex to pay all past due child support but can also order them to pay interest on that sum. Their wages may be garnished. They could have their driver's license, professional, hunting or fishing, or business license revoked.
How Will My Ex Have to Pay What They Owe?
First of all, your ex will need to make all current and future payments as prescribed in the original child support order. What is in arrears and all penalties imposed, such as interest and your attorney's fees, will be placed in a judgment, in the same manner someone who hasn't paid a hospital bill may have a judgment entered against them in court.
In most cases, the judgment specifies a monthly payment to be made until the judgment is satisfied. Moreover, a lien may be attached to your ex's tangible property, if they have such assets, to ensure payment of the judgment.
A Fight for Your Family's Well-Being
Taking legal action against your ex for nonpayment of child support may be a frustrating and tedious process. The more they owe, the tougher the battle may be. Your best bet is to have a skilled attorney fighting for you and your children. If your ex has stopped paying their court-ordered child support, don't wait. Call me today at Steven C. Frazier, Attorney at Law, in Kingsport, Tennessee today.