Family Law FAQs
Nov. 7, 2022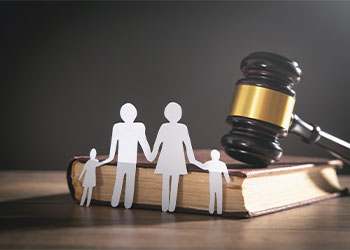 The range of family law issues is extensive. My practice handles cases involving marriage, divorce, paternity, adoption, and every issue that arises within those broad categories. At some point in the lives of many people living in Kingsport, Bristol, Church Hill, Johnson City, and throughout Northeastern Tennessee, they will have a family law concern to deal with. When they do, Steven C. Frazier, Attorney At Law will be there to help.
When I sit down with most of my clients, they have so many questions that they rarely know where to begin. The questions raised in each case will be a unique combination, but I hear many general inquiries repeated time after time. Here are some of the most frequently asked questions (FAQs) I hear and general responses to each one.
Family Law FAQs
What is the difference between divorce and legal separation?
Many couples who believe their differences aren't reconcilable may still not be ready for the court to dissolve their marriage. A legal separation requires basically all the same steps as a divorce but in the end, you're still legally married. You must file a petition for separation and garner court approval of a plan to divide marital assets and debts, as well as child custody and support agreements, if applicable.
If the court grants a legal separation, you can have relationships outside the marriage and live separate lives. You can ask the court to set aside the separation if you reconcile, and if you do not, you can proceed with a petition to dissolve the marriage. You will need all related agreements approved by the court a second time.
I've just been served with divorce papers. What do I do now?
You have 30 days to respond to a petition for divorce by filing an answer with the court. If you do not, your spouse can ask the court to enter a default judgment and formalize all orders for property division, child custody, child support, and alimony.
If you have not already retained a family law attorney, now is the time. Your attorney will walk you through the next steps and make sure you file timely responses with the court. Moreover, your attorney will protect your best interests throughout the entire legal process.
What are the grounds for divorce in Tennessee?
Tennessee law provides for both no-fault and fault divorce. In a no-fault divorce, you and your spouse agree the marriage cannot be saved. In a fault divorce, the spouse alleging fault, such as abandonment or adultery, must prove fault and ask the court to weigh the misbehavior of the offending spouse in alimony, asset division, and child custody agreements.
Will I be awarded alimony?
Awards of alimony require proof of need for one spouse and the ability to pay by the other spouse. In Tennessee, there are four categories of spousal support, and they can overlap.
Rehabilitative alimony provides funds for a spouse who needs to go back to school or receive additional training to garner the education they need to earn a living after the marriage.
Transitional alimony may be awarded to provide financial support for a spouse after the initial filing and in the immediate aftermath of the divorce. The support is designed to give that spouse time to adjust to life after marriage.
Periodic alimony may be awarded for the duration of a spouse's life or until that spouse remarries. This is often awarded in lengthy marriages or when a spouse is elderly, disabled, or otherwise unable to support themselves on their own.
Set (also called "permanent") alimony is a sum determined by the court to be paid by one spouse to the other, usually as a lump sum or in scheduled installments. This is often used when one spouse needs to "buy out" the other in the property settlement.
I'm not sure I'm the child's father. What are my options?
Tennessee law presumes a child born during the marriage is the biological child of both spouses. However, if you have reason to doubt this is true, you will need to establish paternity. If paternity testing proves you are not the child's biological father, you are under no legal obligation to provide child support or to have a relationship with the child in a child custody agreement.
What are the benefits of a prenuptial agreement?
Prenuptial agreements or post-nuptial agreements (those entered into after the date of marriage) are often disparaged as ways for wealthy spouses to avoid sharing their wealth with a poorer spouse in divorce. The fact is that these marital agreements can protect both spouses in divorce and give couples time to consider how they want to treat one another before they are in the heat of a divorce. Moreover, disparate wealth is not the only reason to consider these agreements.
Do I need to hire an attorney to represent me in divorce?
The law does not require that you hire a divorce attorney to represent you. Some couples think they can share legal counsel, although that is an ethical issue involving clear conflicts of interest even in the most amicable of divorces.
When you divorce, you and your spouse are dividing your lives and everything and everyone in them. You need an experienced and knowledgeable family law attorney who will represent your best interests at every turn. You need informed legal advice, straightforward answers to difficult questions, and a steady hand to help you navigate the process.
You need to hire the right attorney to help you through this.
Get Compassionate Legal Support
Family law issues aren't the same as other types of law. If they involve family, they require compassion. I believe the combination of compassion, experience, and diligence is the mark of a great family law attorney.
If you are or may be facing any type of family law issue in or around Kingsport, Tennessee, call Steven C. Frazier, Attorney At Law now to schedule a time to visit. I am here to provide answers to questions frequently and rarely asked.